Introduction:
When it comes to making cherished memories and enjoying quality family time, few things compare to the delight of splashing around in a swimming pool. But is the thought of a lengthy, complex construction process holding you back from having your oasis in the backyard? Or maybe your yard space is limited, making a traditional in-ground pool seem out of reach.
No worries! We've got an excellent solution that's about to revolutionize your plans: above-ground pools. Not only are they budget-friendly, but they're also a breeze to set up and come with many fantastic benefits. 
In this article, we'll explore why above-ground swimming pools have captured the hearts of families of all sizes everywhere, transforming ordinary outdoor spaces into extraordinary aquatic retreats.
BENEFITS OF CHOOSING ABOVE-GROUND POOLS
While in-ground pools certainly have their allure, it's essential to acknowledge the undeniable advantages of above-ground pools. Let's take a closer look at a few of these compelling benefits.
Affordable Pool Ownership
An in-ground pool can provide luxurious enjoyment but often has a hefty price tag. On average, installing an in-ground pool costs $30,000 to $80,000, a considerable sum many families might not have. 
On the other hand, above-ground pools start at a mere $2,000, proving that you don't need to break the bank to enjoy a refreshing dip in your pool.
And the best part? Despite the lower price point, above-ground pools don't skimp on the benefits. Whether it's staying fit, finding stress relief, or simply having a blast with friends and family, an above-ground pool offers all the perks of aquatic recreation at a fraction of the cost.
Smart Solution for Limited Space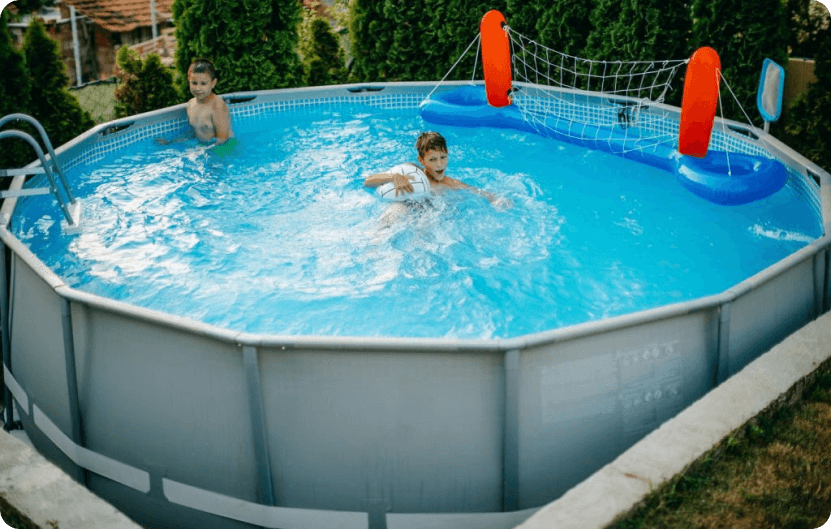 When working with limited space, above-ground pools are your go-to solution. They come in different round and oval sizes that match almost any backyard perfectly. The best part? They require less digging and construction than in-ground pools, so setting them up in smaller areas is a breeze. 
At Clear Water Pool and Spa, our above-ground pools are available in various sizes that are tailor-made for your space. You can take your pick from round sizes starting at 15 feet and going up to 30 feet or opt for oval sizes ranging from 15 feet by 30 feet to 18 feet by 33 feet.
Your perfect pool size is ready and waiting for you at Clear Water Pool and Spa. 
Visit our Corpus Christi Pool store now!
Swift Installation for Instant Fun
If you've got young children, you know patience isn't exactly their strong suit. When a child's excitement for a pool hits, they're eager to jump in almost immediately. That's where the beauty of above-ground swimming pools comes in, blending the best of both worlds.
Unlike the lengthy process of designing, constructing, and landscaping an in-ground pool, above-ground pools offer a much quicker timeline. Instead of waiting for weeks or months, you can have an above-ground pool ready for splashing around in as little as one day. So, when the kids are ready to go, you won't hear, "Are we there yet?" because the pool will be ready before you know it.
Effortless Maintenance
Compared to their in-ground counterparts, above-ground pools bring a refreshing maintenance ease. The magic lies in their elevated position – since above-ground pools sit higher; naturally, less dirt, critters, and debris find their way into the water. 
Additionally, cleaning and maintaining an above-ground pool is a breeze because everything is right in front of you, easily accessible, and visible. Unlike in-ground pools, where various components are hidden beneath the surface, above-ground pools offer seamless access for inspection and repair. 
So, whether you're handling pool maintenance or relying on pool cleaning services in Corpus Christi, the simplicity of above-ground pool maintenance is a win-win.
The Mobility Factor
When it comes to choosing a pool, the aspect of mobility is a key factor. In-ground pools tend to become fixtures, and their removal can be challenging, prompting an important question regarding your long-term intentions for the pool.
Ask yourself:
Will it affect how much your home is worth?

Will you enjoy it as much with kids?

Are safety worries on your mind?
Now, think about above-ground swimming pools – they work differently. They can adapt to changes in demand and the environment, meaning you won't have to stress about the same things. Plus, putting together or taking apart an above-ground pool is pretty simple.
The main difference is this: with an in-ground pool, if you move, it stays behind. But with an above-ground pool, it's a new game. You can take it apart and set it up in a new spot.
Above-Ground Customization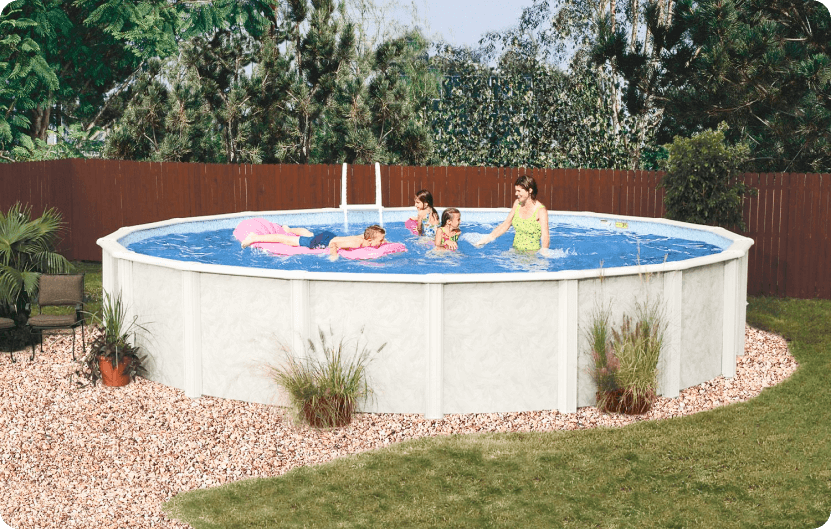 Owning an above-ground swimming pool comes with the bonus of personalization. You can shape it to suit your yard perfectly. For instance, you might construct a beautiful wooden deck around the pool, giving it an elegant in-ground appearance. Or maybe you'll add some decorative landscaping to enhance the ambiance. The possibilities are virtually endless.
Safety Takes Centre Stage
Safety is paramount in swimming pools, and above-ground options offer a clear advantage. The design itself provides a protective feature: the pool walls. Raised above ground level, these walls act as a barrier, significantly lowering the chance of accidental slips or falls for kids, adults, and pets. And for an added layer of security during your pool time under the sun, consider adding custom railings. 
Elevate Your Backyard with Above-Ground Swimming Pools
Swimming isn't just a fun pastime – it's a health booster too. Beyond the joy it brings to families, it offers remarkable health benefits. However, let's face it: traditional swimming pools might not fit everyone's budget. Luckily, above-ground swimming pools provide a wallet-friendly alternative without compromising on benefits. 
Clear Water Pool and Spa is your go-to source for top-notch above-ground swimming pools. Based in Corpus Christi, our pool store offers a wide selection of high-quality pools that transform your backyard into a haven of relaxation and enjoyment.
But that's not all. We're not just about pools – we're your one-stop shop for all things pool-related. We've got you covered, from floats and toys to pool supplies like pool chemicals and cleaning equipment. We can also help you with pool cleaning and vacuuming. We aim to make your pool ownership experience easy, enjoyable, and hassle-free. 
Ready to make your backyard dreams come true? Pay a visit to our Corpus Christi store and explore our extensive range.